With a background in interior design, styling and food, Jono Fleming has built his career as one of the most adaptable figures in the industry. A self-confessed 'curated maximalist', Jono's main goal is to bring inspirational yet achievable style into people's homes through his design work.

Jono's interiors and styling projects have been seen on the covers and pages of leading homes publications such as Inside Out, Belle and House & Garden. After serving as Style Editor for Inside Out, Jono has worked with top brands, artists, designers and photographers in the industry and brings a unique and unrivalled knowledge to any project.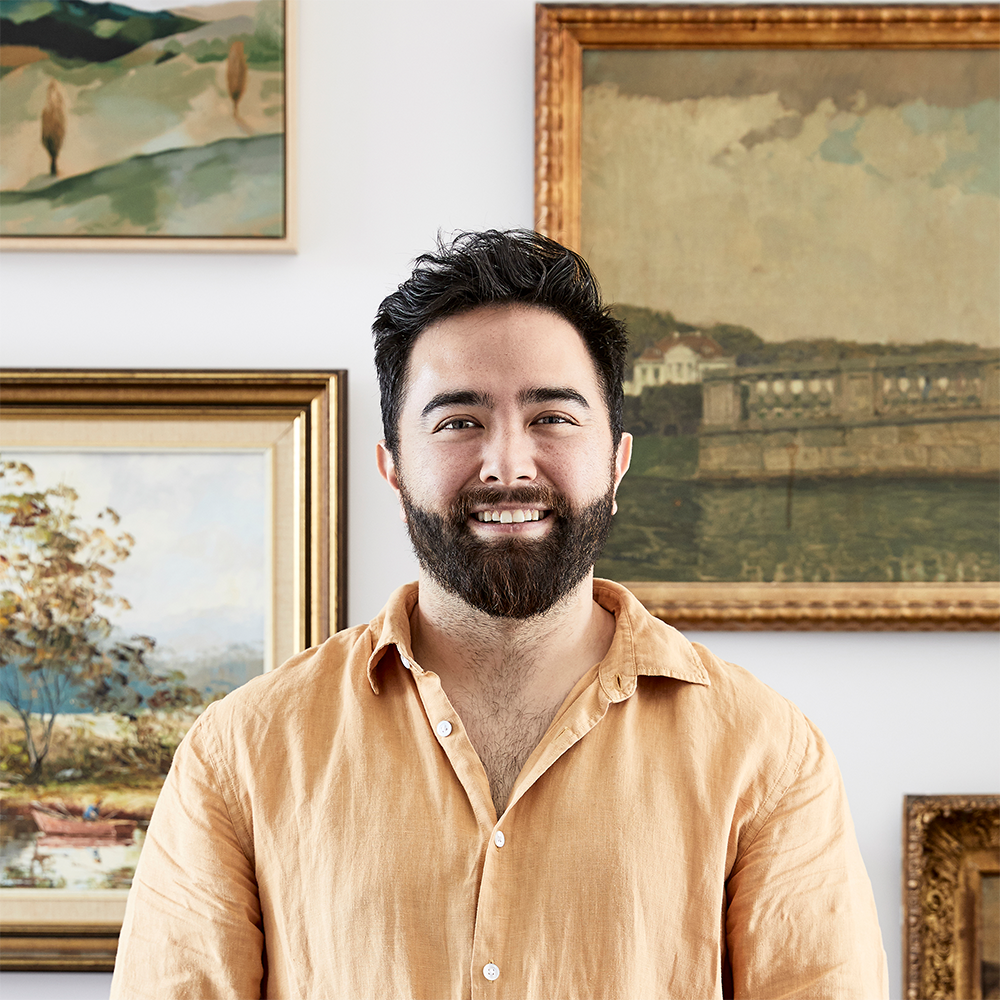 Please introduce yourself and tell us where we are today…
I'm Jono Fleming and we're at my farmhouse just outside of Oberon, in the Central Tablelands of NSW.
What do you do with yourself (when not shooting #womenwelove #menwelove )?


The short version is I'm stylist and interior designer, but dabble in lots of other areas. I also co-host the House of Style podcast with Kerrie Ann Jones, I have an online store selling art,
Palette by Jono Fleming
, I sometimes cook behind the scenes for tv and have previously been the Style Editor for Inside Out magazine.
How did you get started in the industry?


Much like my current work, I've taken a bit of a winding road in the industry. I started as an interior designer working for different firms after I graduated with my degree. From there I spent a few years food styling, working bts on shows and styling for Temple & Webster. The farmhouse got featured as the cover of Inside Out and soon after that I landed the role of Style Editor for a couple of years before venturing out on my own to work freelance and see where the industry takes me!
How would you describe your interior style?
I like to refer to myself as a 'curated maximalist'… I like to have a lot of colour, pattern, objects at home but it's all very thought out and carefully selected. What I love most about design is mixing different styles and references together to create something a bit unexpected but with classic nods. As my style evolves I like the space to be able to do the same so starting with a good base is key. I designed the farm to have a very solid neutral palette that over time I can change and restyle without it clashing with the original architecture.

We love how you style your gallery walls – any hot tips when doing this / and how to get it right?

The first thing is to understand you don't need to have all your art at once! Gallery walls take time to collect pieces. And all art doesn't need to be extremely expensive, find a mix of pieces that really talk to you. You can either keep them in a theme or have a similar colour palette if you're looking for a cohesive gallery wall but there aren't any hard and fast rules. My warning is, be prepared to have to patch a few holes in the wall here and there if you change your mind but it's all worth it in the end when you look at your beautiful collection.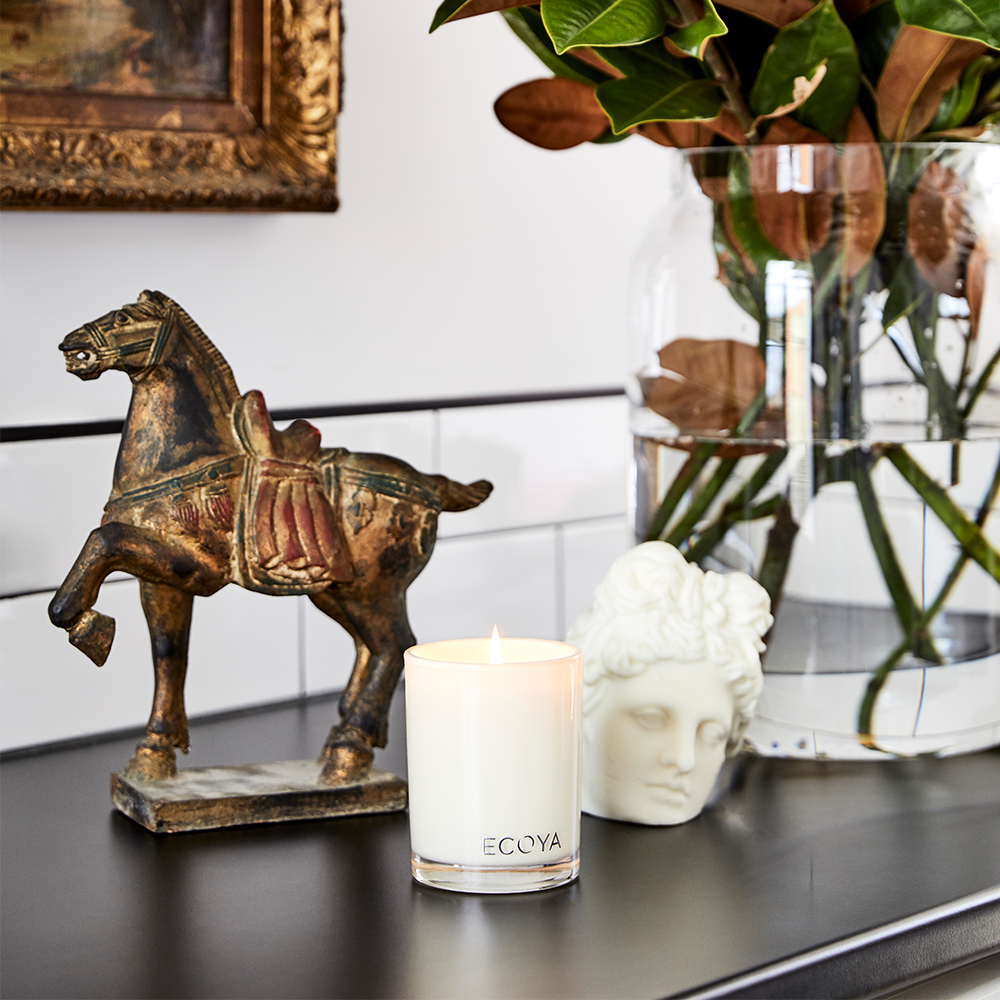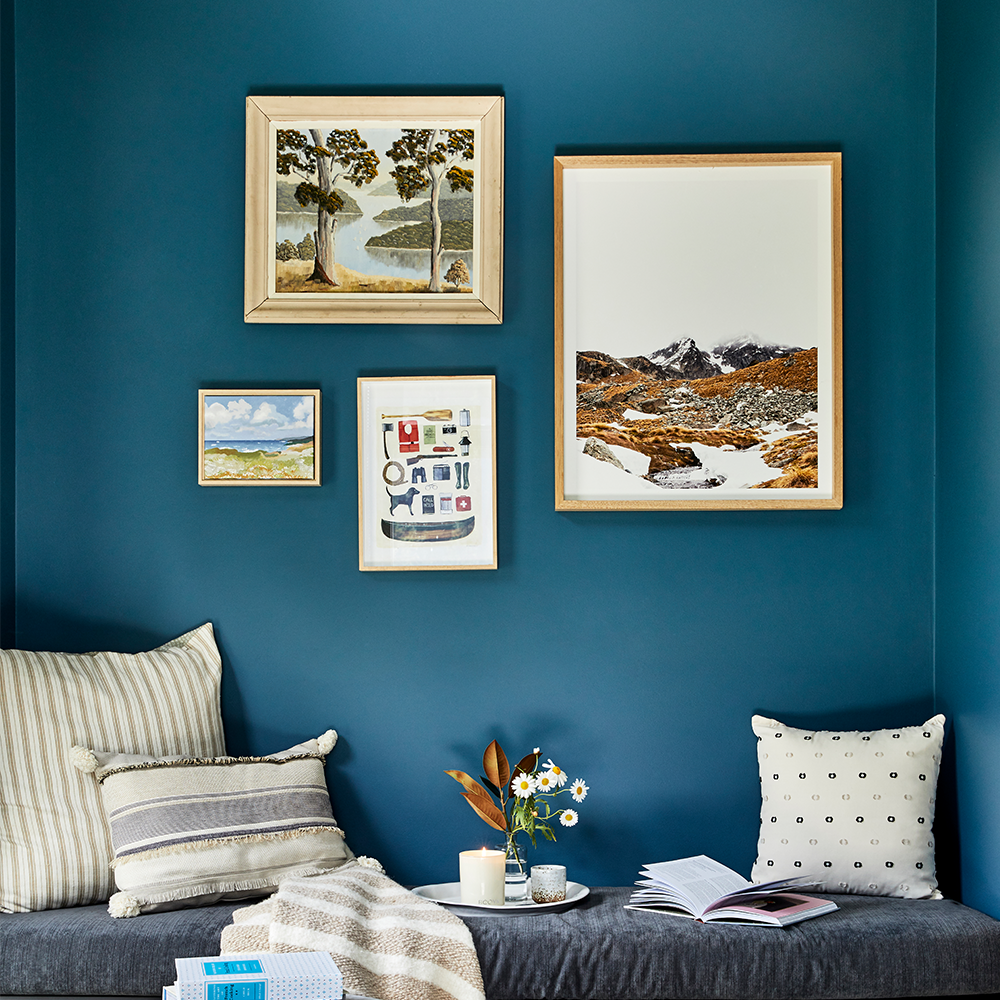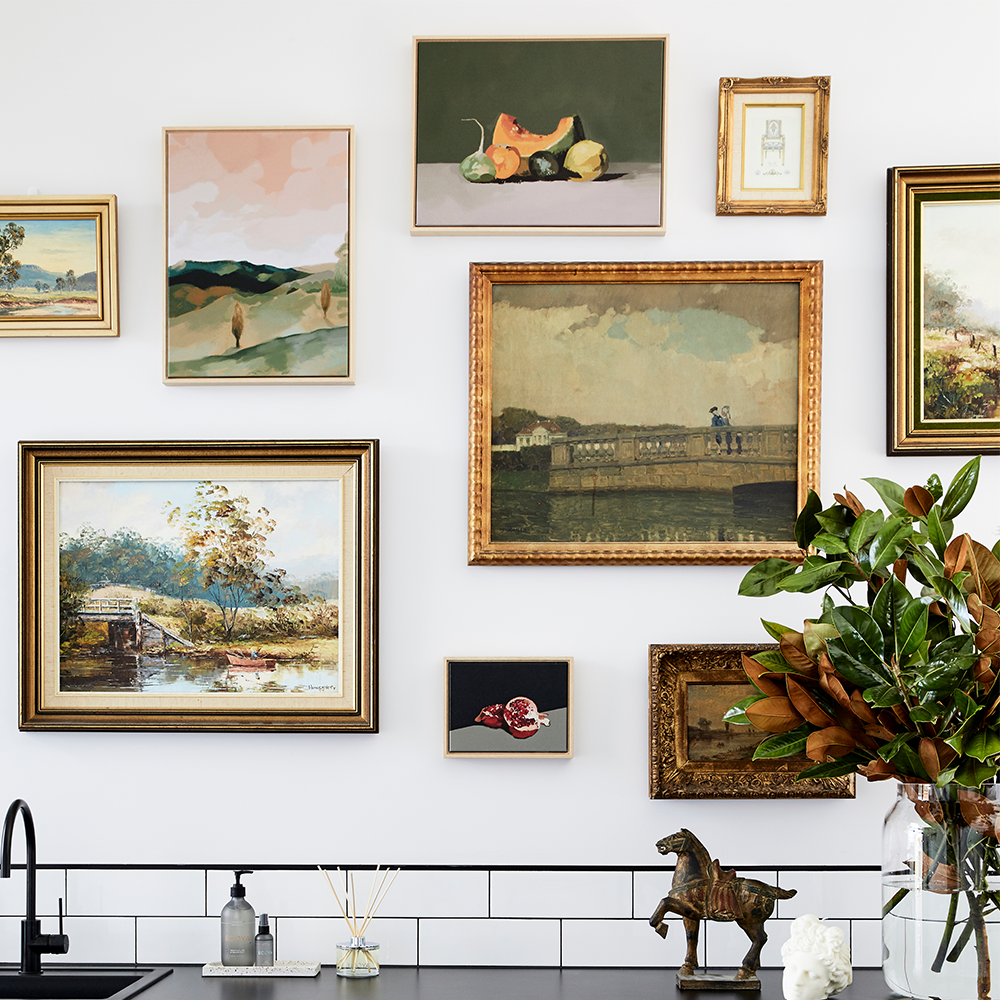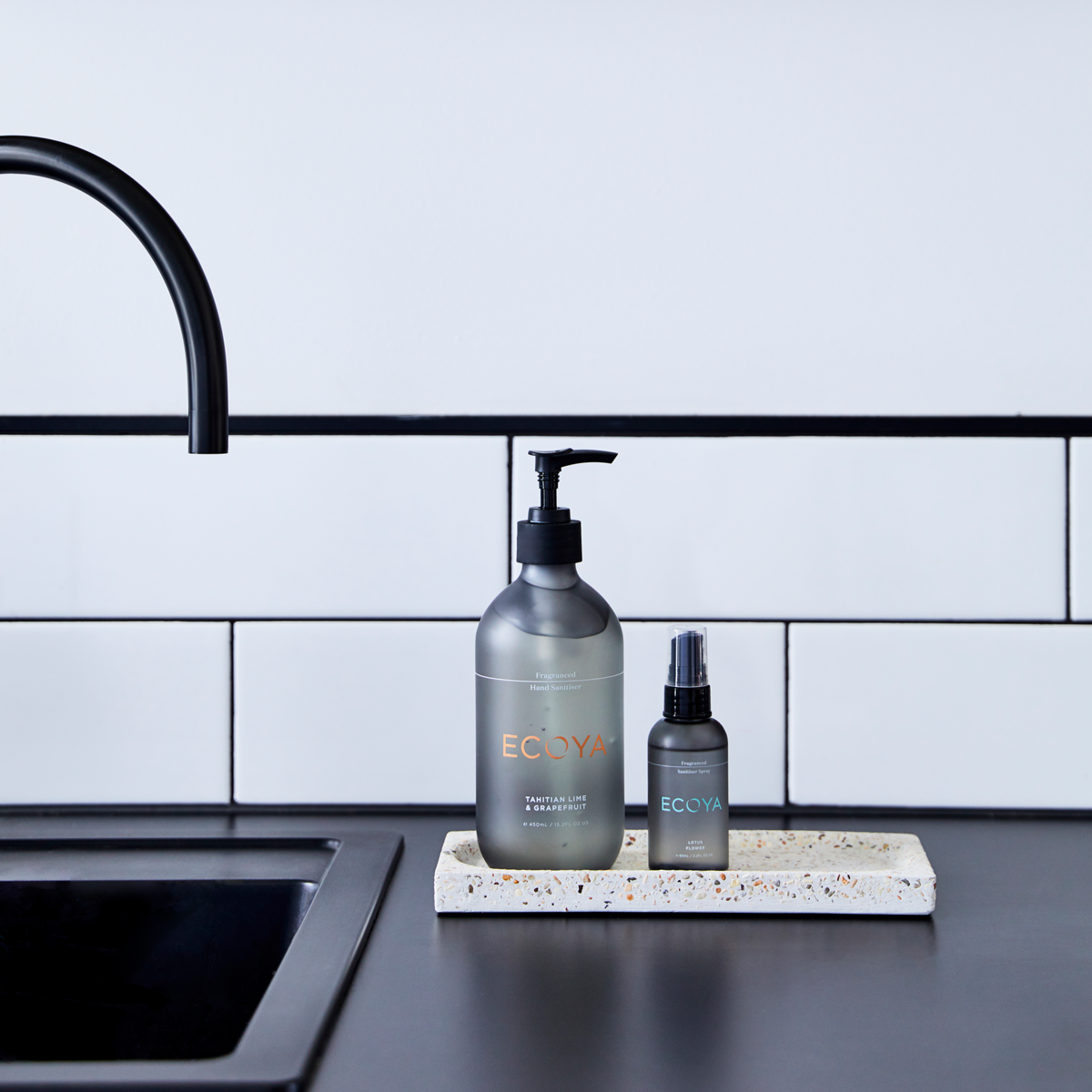 What's your favourite room in your home and why?
I recently hung a lot of art that was in storage from my grandparents in the laundry and whilst it's not the room I spend most of my time in, that would be lounge or kitchen, I love walking past the gallery wall in the laundry, it brings a smile to my face every time. By hanging all these vintage artworks (with some of my own pieces in the mix) it has made a traditionally quiet, bit boring space, something really special and it's given it a new breath of life.

Are you a collector of any specific homewares (what are they) and what inspires you about those items?

Apart from art, I'm obsessed with lamps! I have a lot of lamps, I love them because they can double as amazing sculptural pieces. Non traditional shapes, interesting curves, different materials, they can all give ambience and mood to a room. At night I rarely have the main lights on, it's normally a couple of lamps and a whole bunch of candles!

What would be your one home / interior indulgence, if money was no object?
I'm cheating a little but I'd love to finish off the landscaping around the farm house to be honest. The interior is my baby, I've worked so hard on it for many years to get it looking the way it does but there's so much more I'd love to create outside the home. It's definitely on the 'one day' list.
If you had one ECOYA fragrance to fill your home with, what would it be?
I love
Cedarwood and Leather,
it's warm spicy mix with the cedar wood is absolutely heavenly. I actually have it burning right in front of me in my office right now! My other favourite has got to be the incredible seasonal
pine candle
, it always reminds me of the farm even when I'm not there.
How do you style your home fragrance / candles?


As mentioned with my lamp obsession, I love to use candles as well to create an ambience to the home. I don't really believe in lighting candles only for special occasions, they're there to be used! Filling your home with a fragrance and candlelight can have such a therapeutic calming effect especially after a long days work. It can make home all that more special.