A Sunday reset to start the week well with Kyal & Kara
Starting the week with a well organised home is good for the soul. We took a moment to fluff the towels and stack the dishwasher with home reno extraordinaire's Kyal & Kara about tackling the to-do list and the final flourishes that make having a tidy home so satisfying…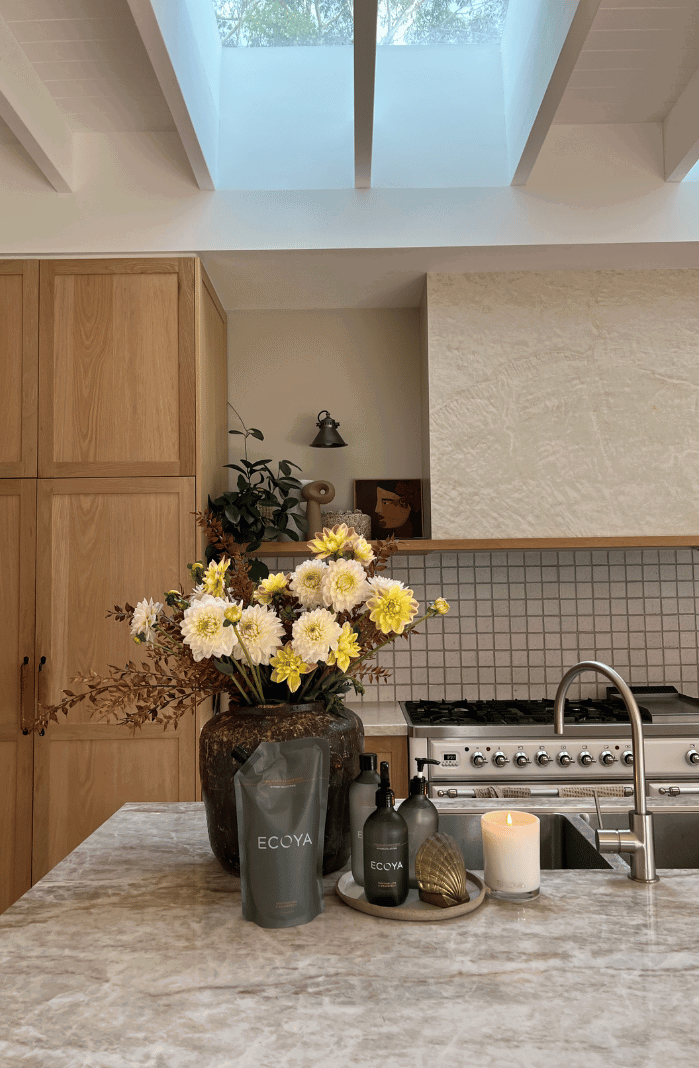 What is the greatest hack you can share with us when it comes to tackling a list of chores?
My top hacks are:
Actually writing the list in the first place – don't underestimate that sense of accomplishment and motivation you get as you cross chores of the list.
Set yourself a timeframe. We ALWAYS work better on a deadline. If I know that I've allowed 2 hours for chores, I'm much less likely to get distracted and stay focused on the jobs at hand.
Pump up the music and create a vibe. Turn on the motivating playlist and light a candle for a fresh scent to keep you inspired.
When you start planning a renovation, what are some recurring issues you try to address? IE room flow, functionality, who is using what room and why.
When planning a renovation, natural light and ventilation are generally our first priority for each space. We then begin to think about how each space flows through to the next. For example, we always prioritise a good connection between the main living areas and the outdoor space. This can sometimes mean re-orientating rooms, such as the kitchen, to capitalize on north light, and ensuring that the connection to the outdoor space is maximized, with stacking or bifold doors as an example.
From here, and before we lock in any plans, we'll devise a rough furniture layout. This is extremely important in the planning stage as you want to ensure that the room dimensions are suited to how you intend to use the space. For example, you want to ensure a suitable sized sofa will suit your living space with adequate circulation space, or a king or queen bed size in the bedroom.
It isn't until the above examples are sorted that we really begin thinking about locking in colour and interior styling selections. These can be changed up over time. Playing on all the senses to complete a home is what we love doing. Colour, texture, scent – they all help to create a space that's unique to you!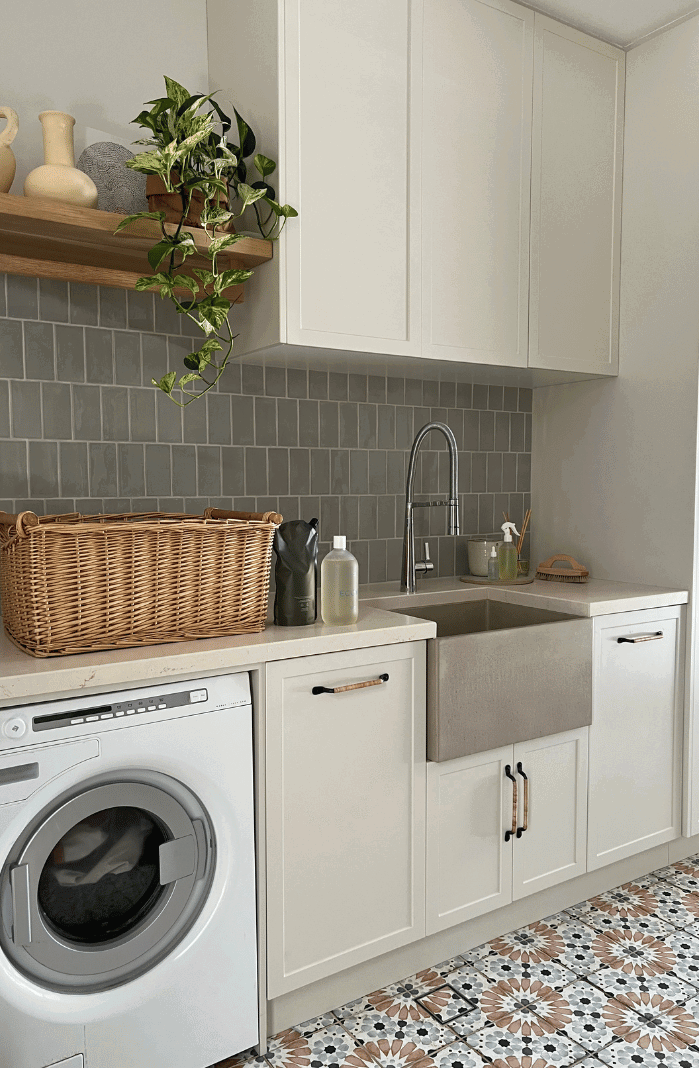 How can we combat a "Room of Doom"? Let's be honest, we all have one!

Don't we all! But, I'm all about sorting into three categories: 1) "Keep" pile 2) "Donate" pile 3) "Keep but move to another room" pile. Setting myself a goal or deadline with certain rooms often helps and prevents me from drawing the process out, or getting distracted along the way.


When is clean-sheet day? Do you have a ritual?
I like to think that clean sheet day is a Sunday job, but in reality, we're often surfing, or out on the boat first thing, which means come Sunday afternoon we're ready for some chill time. Clean sheet day usually falls on a Tuesday when I'm home with my little one. I've come to take pleasure in the small pleasures that come with the mundane tasks around the house. The scent of fresh sheets when using the ECOYA
Wild Sage and Citrus laundry liquid
– divine. Not to mention how good it feels to jump into a bed with freshly washed sheets.
A clean kitchen feels like such a triumph! How do you organize above and below the benchtop? Reveal your hacks!
Yes! When my house is feeling chaotic and unorganized – I always start with organizing the kitchen benchtop. Something about having a clean benchtop means I can think straight – maybe because with young kids, my home-time involves so much snack and food prep, and our entertaining and chill time often revolves around the kitchen. I love a good benchspray – not only to clean, but also to add a fresh scent to the kitchen. The ECOYA
Tahitian Lime & Grapefruit surface spray
is always a favourite.
Set the scene for us; its Sunday, you have ticked off that to-do list and you kick back with the kids, what is the cherry on the top for a well-organized home?
The cherry on top for the Sunday afternoon refresh would be a fresh beverage and a freshly lit candle to make the house smell amazing. For me it's not just about having a well organized home – for me it's about creating a retreat for yourself and your family. A space that makes all the senses feel good. A big one is the scent of the home.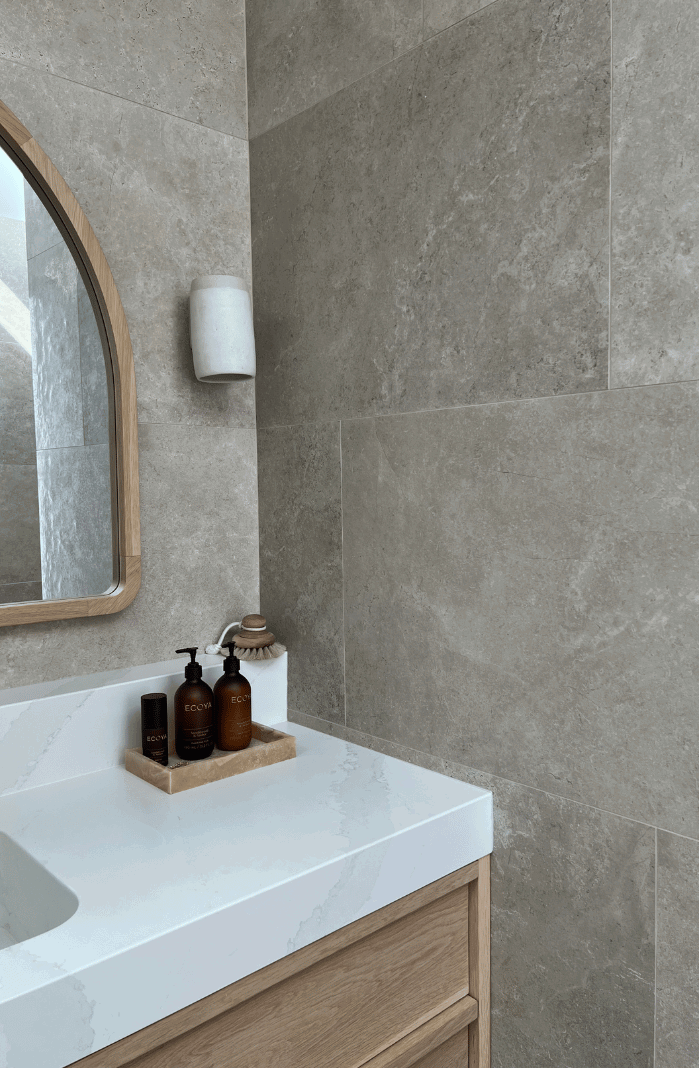 When it comes to home fragrance, do you like to show it off, or keep it understated? Talk us through a styling moment.
A love the subtle nods to a home fragrance by creating a small vignette in each space. On the island, I usually pop the hand wash, dish liquid and surface spray on a ceramic plate with the fresh white
ECOYA candle
vessel. In the bathroom and laundry, I love using trays – like the feature onyx tray in our ensuite to display a candle or scented hand soap and lotion.
From the kitchen to the laundry, bedrooms and bathrooms, we have a little something
for every room in the home.
Discover our collections online to stock up on all the goodies Kyal & Kara used in their home for the most satisfying Sunday home reset.
Get shopping